Summary:
[embedded content] Si vous ne deviez écouter que quelques minutes, je vous recommande le passage dès 48'37.Le projet a été initié par le Collectif BLOUSES BLANCHES. Celui-ci a contacté Magà Ettori pour réaliser un documentaire sur la situation sans précédent des soignants. Le Collectif est très inquiet par l'annonce faite par le chef de l'Etat français du 12 juillet 2021 sur l'obligation vaccinale pour les soignants, ainsi que l'extension du pass sanitaire. Applaudis lors de la première vague de la pandémie, décorés sur les Champs-Elysées un an plus tard, les soignants sont à présents stigmatisés par une grande partie de la population. Le gouvernement leur donne jusqu'au 15 septembre pour se résigner et se vacciner, a défaut de quoi ils seront mis à pied puis licenciés. Emmanuel
Topics:
Liliane HeldKhawam considers the following as important:
Autres articles
This could be interesting, too:
Je vous invite à visionner ce documentaire très intéressant et très touchant qui fait intervenir un certain nombre de personnes travaillant dans le secteur de la santé qui refuse le vaccin et dont la vie professionnelle pourrait basculer ce 15 septembre.
Si la liberté est la requête commune à toutes ces personnes, la crainte de se faire injecter un produit dont on ne sait rien et qui semble poser d'innombrables questions est aussi omniprésente.
Ce film est rythmé par l'intervention de scientifiques qui expliquent les dangers de cette injection qui est pour l'instant dans sa phase expérimentale.
Et pour appuyer les craintes des uns et des autres, voici une énième étude qui fait état de potentiels dégâts vitaux qui peuvent survenir dans l'organisme humain, et qui expliqueraient les problèmes cardiaques rencontrés notamment par nombre d'hommes jeunes.
La protéine Spike à nouveau sur la sellette dans cette étude de chercheurs de l'université de Bristol.
Il est notamment dit dans l'étude ci-dessus:
Côté efficacité du dit vaccin, pas mieux. Même l'OMS ne croit plus dans sa capacité à immuniser la population.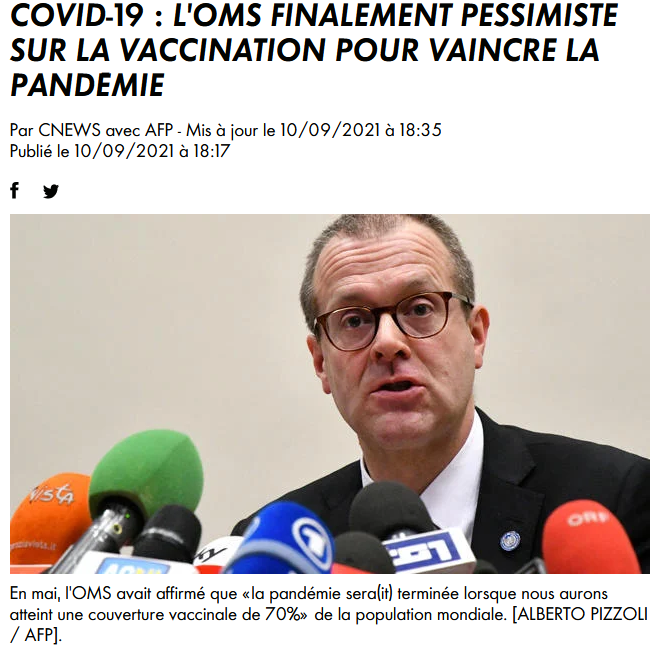 Et voici un problème supplémentaire qui vient se rajouter à tout le reste. Une vidéo de la Quinta Columna qui revient sur les effets de l'Oxyde de graphène, un nanomatériau qui semble bien présent dans les produits anti Covid.