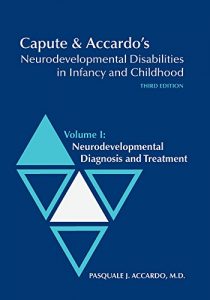 Expanded with coverage of today's most critical topics and written by more than 90 physician experts, this is the first of two volumes comprising the third edition of the core text for certification in neurodevelopmental disabilities in pediatrics. The most complete textbook available on this subject, this definitive resource prepares future clinicians to skillfully assess and treat a range of neurodevelopmental disabilities in infants and children.
In Volume I, students and professionals will get extensive information on critical topics such as
brain development
the epidemiology of developmental disabilities
genetics
prematurity
fetal alcohol syndrome
neonatal neurodevelopmental assessment and screening
family functioning
early intervention and its efficacy
behavior management
psychopharmacology
ethical issues
legislative directives and trends
and more
A necessary textbook for academic pediatrics and a must-have desk reference for every practicing pediatrician, this authoritative resource will help clinicians ensure the best possible care for children with neurodevelopmental disabilities.
Author: Friedrich Nietzsche
Edition: 3
Binding: Hardcover
EAN: 9781557667564
Condition: New
Manufacturer: Brookes Publishing
Number of items: 1
Number of pages: 704
Product group: Book
Studio: Brookes Publishing
Publication Date: 2007-10-12
Publisher: Brookes Publishing
Pages: 704
ISBN: 155766756X