Summary:
Beginnen wir mal mit einem Chart: (Quelle: Bloomberg) Sieht auf den ersten Blick nicht sehr spektakulär aus. Doch dieser Chart erzählt eine Geschichte. Eine Geschichte des Wahns. Haben Sie schon einmal den Begriff «Race for Yield» gehört? Darunter i...
Topics:
Mark Dittli considers the following as important:
Allgemein
This could be interesting, too:
Beginnen wir mal mit einem Chart: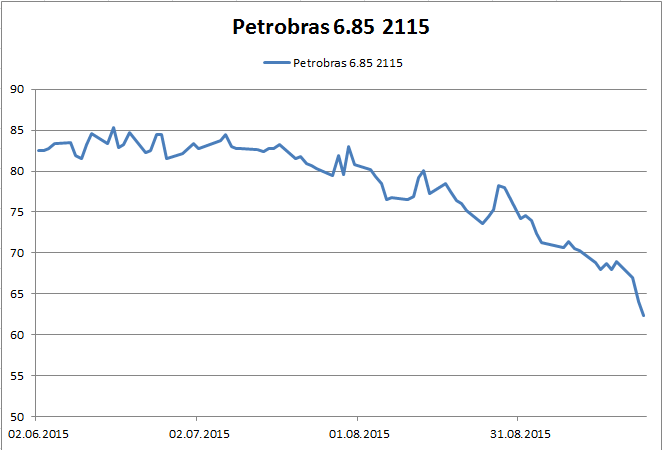 (Quelle: Bloomberg)
Sieht auf den ersten Blick nicht sehr spektakulär aus. Doch dieser Chart erzählt eine Geschichte. Eine Geschichte des Wahns.
Haben Sie schon einmal den Begriff «Race for Yield» gehört? Darunter ist die verzweifelte Suche nach Rendite zu verstehen, in die Investoren von der Null- und Negativzinspolitik der Notenbanken gedrängt werden (hier zum Thema Geldpolitik übrigens ein sehr lesenswertes Interview, das mein Kollege Christoph Gisiger mit dem US-Zinsspezialisten Jim Grant in New York geführt hat).
Im Grunde ist die Sache simpel: Wer mehr Rendite will, muss mehr Risiko in Kauf nehmen. Denn risikolose Rendite gibt es nicht mehr. Angenommen, Sie sind Anlagechef(-in) einer Pensionskasse oder eines Lebensversicherers und sind mit der Aufgabe betraut, ein grosses Obligationenportefeuille zu bewirtschaften: Wo finden Sie mehr Risiko?
Typischerweise haben Sie zwei Stellschrauben, nämlich die Laufzeit und die Qualität respektive Bonität des Schuldners, der die Obligation ausgegeben hat.
Kurzum: Wer mehr Rendite will, muss am Bondmarkt mindere Qualität und/oder längere Laufzeiten kaufen.
Anfang Juni, vor nur etwas mehr als drei Monaten, nutzte der parastaatliche brasilianische Ölkonzern Petrobras genau diese verzweifelte Suche nach Rendite aus: Petrobras gab unter der Wertpapier-Kennnummer US71647NAN93 einen Bond in US-Dollar mit 100 Jahren Laufzeit aus. Der jährliche Zinscoupon des Papiers beträgt 6,85 Prozent.
Richtig: 6,85 Prozent für eine Laufzeit von 100 Jahren. Und das für einen Schuldner, der in einen der grössten Korruptionsskandale aller Zeiten verwickelt ist; für einen Konzern, der bereits 133 Milliarden Dollar Schulden in seiner Bilanz trägt und die zweifelhafte Ehre geniesst, der am höchsten verschuldete Ölförderer der Welt zu sein; für ein Unternehmen, dessen Bonität von den Ratingagenturen als «Junk» – Ramsch – eingestuft wird; für einen Ölmulti, von dem niemand weiss, ob er in zwanzig, fünfzig oder hundert Jahren überhaupt noch Ölreserven besitzt.
Geschweige denn, ob im Jahr 2115 überhaupt noch jemand Erdöl benötigt.
Die Anleihe mit einem Volumen von 2,5 Milliarden Dollar war dreifach überzeichnet. Die Investoren rissen sich darum. Der Emissionspreis wurde so angesetzt, dass die Rendite auf Verfall 8,45 Prozent betrug.
So weit, so gut.
In der Zwischenzeit, in nur drei Monaten, ist einiges geschehen:
Seit Anfang Juni ist der Ölpreis um rund 24 Prozent gesunken.
Brasilien, der Heimatstaat von Petrobras, ist tiefer in die Rezession geschlittert.
Die Ratingagentur Standard & Poor's stufte die Bonität des Staates Brasilien auf Junk zurück (hier mehr dazu).
Brasiliens Zentralbank erhöhte die Leitzinsen auf 14,25 Prozent.
Die brasilianische Währung, der Real, ist auf den tiefsten Stand ihrer Existenz (seit 1994) gefallen. Allein seit Anfang Juni hat sich der Real zum Dollar um mehr als 25 Prozent abgewertet.
Das waren alles keine Ereignisse, die komplett überraschend auftauchten. Doch wer Anfang Juni den Jahrhundert-Bond von Petrobras gekauft hatte, erhielt eine bittere Quittung: Wie der eingangs abgebildete Chart zeigt, beträgt der Kursverlust bis heute bereits 30 Prozent.
Schon heute, nach wenig mehr als drei Monaten, mutet es absurd an, dass dieser Bond überhaupt so reissenden Absatz fand.
Eines der dominierenden Themen an den globalen Finanzmärkten in den vergangenen Jahren war der immense Kapitalfluss, der nach 2008 in die Schwellenländer strömte. Das hat in Emerging Markets wie China, Brasilien, Russland oder Indonesien zu einem starken Anstieg der Verschuldung in der Privatwirtschaft geführt. Und ein beträchtlicher Teil dieser Schulden wurde in US-Dollar aufgenommen. Wer mehr Details dazu erfahren will: In diesem und diesem und diesem Blogbeitrag haben wir das Thema bereits eingehend beleuchtet.
Und nun, seit einigen Monaten, hat die Gezeitenwende in den Kapitalströmen stattgefunden. Das Kapital strömt aus den Emerging Markets zurück in die USA (hier mehr dazu).
Petrobras steht symbolisch für diese Ära: Der Konzern hat insgesamt mehr als 90 Milliarden seiner Schulden in US-Dollar aufgenommen. Und nun kommt die Kehrseite dieses Sündenfalls, wenn man sich in einer Währung verschuldet, die nicht die eigene ist: Je tiefer der Real fällt, desto schwerer wird die Last der Dollarschulden für Petrobras.
Wer weiss, vielleicht geht der Jahrhundert-Bond US71647NAN93 in die Geschichte ein. Als letzter Ausdruck des Wahns, dem Investoren in den USA und Europa in ihrem Anlagenotstand, dem Race for Yield, verfallen sind.
Zwei Links in eigener Sache: Hier die zwei nächsten Teile unserer FuW-Serie über historische Spekulationsblasen: Die Bowling-Euphorie in den Sechzigerjahren und die «Nifty-Fifty»-Blase.